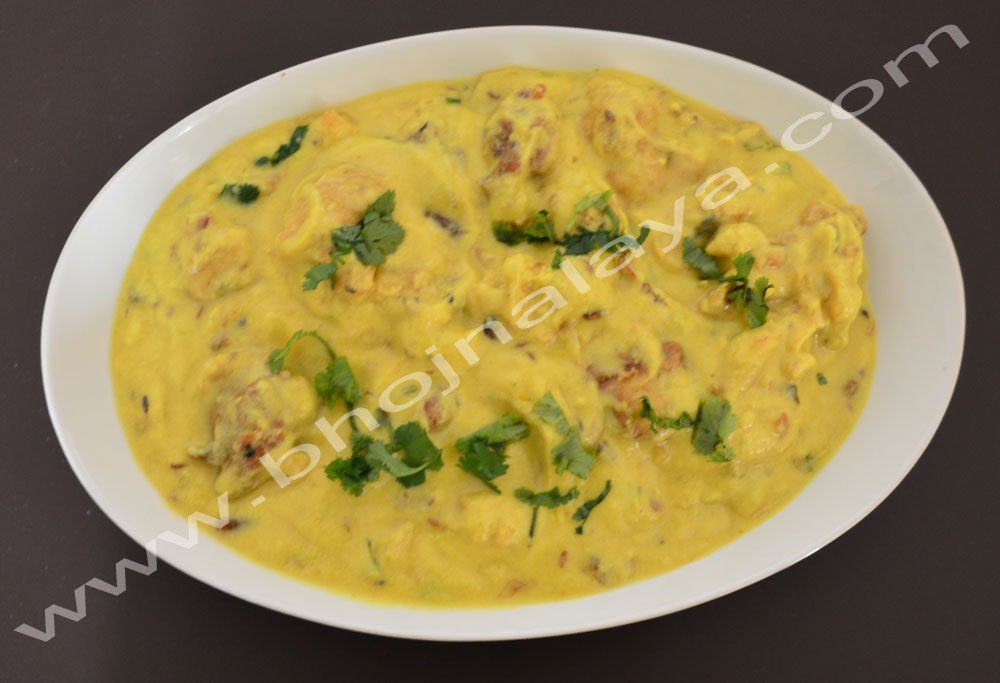 Yields:

3 Servings
Difficulty:

Medium
Prep Time:

15 Mins
Cook Time:

25 Mins
Total Time:

40 Mins
For Pakoras-

Take a large bowl to add gram flour to it then add onion, green chilies salt.

Now add about 1/4th cup of water & mix it gently and whisk it thoroughly to make smooth & lump-free batter.

Heat oil in a kadhai and when the oil gets hot drop a small portion of the batter.

Deep fry the pakoras till golden brown and drained the pakoras on absorbent paper & keep aside.

For Kadhi

Whisk the yogurt properly and add the gram flour mix it gently & make a lump-free mixture then add the turmeric powder, salt & 3 cups of water mix it.

Heat the oil in a kadhai then add fenugreek seeds, cumin seeds, dried red chilies & saute for a minute add garlic saute for a minute.

Now add yogurt mixture to it and stir continuously till it boils.

Cook it in low heat for 15 to 20 minutes and add fried pakoras cook for 3-5 minutes.

Pakoras kadhi is ready garnish with fresh coriander & serve it.
Notes
Fats, Protein, Carbohydrates