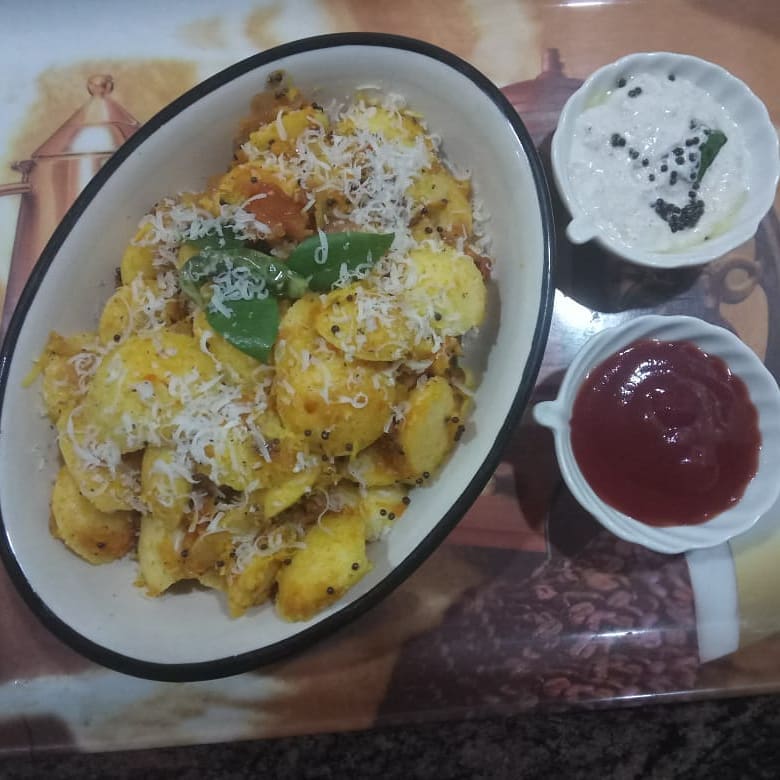 Yields:

3 Servings
Difficulty:

Medium
Prep Time:

10 Mins
Cook Time:

15 Mins
Total Time:

25 Mins
Adjust Servings
For Preparation of idli batter

For Making Masala
For Preparation Of Idli Batter

Take a mini idli mould & grease it with a oil, now add batter to idli mould with the help of ladle.

Filled all the idli mould with the batter. Now put the idli mould stand in the steamer for 12-15 minutes.

After 15 minutes remove the idli stand from the steamer keep aside for 5-8 minutes.

when the 5 minutes is done then scoop the idli from the mould using spoon , keep idli in the bowl.

Heat oil in a pan, add mustard seeds to it. After it get crackled add curry leaves, onion, green chilies saute for 5 minute.

Now add ginger -garlic paste, tomatoes, turmeric powder, red chili powder & salt cook till tomatoes get cooked properly.

Add idli to the mixture, toss it properly so that the masala get coat to every idli at last add grated coconut to it.

Transfer the masala idli to the serving bowl garnish with grated coconut & serve it with chutney or sauce.