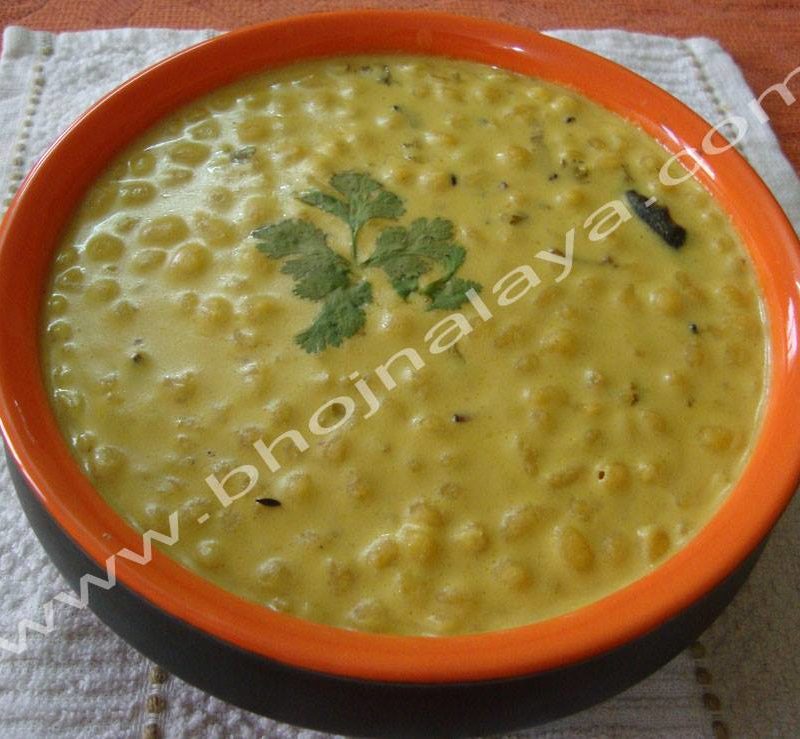 Yields:

3 Servings
Prep Time:

15 Mins
Cook Time:

25 Mins
Total Time:

40 Mins
Heat sufficient oil in kadhai. Meantime take a bowl add besan (Gram Flour) prepare a thick batter by using water whisk it properly.

Whisk until the bubbles starts to break inside the bowl. Take a pierced spoon to prepare boondi.

Pour 1 full table spoon of besan batter on the pierced spoon place it over the kadhai. Drop the batter in the kadhai making small boondi.

Take another spoon & fry the boondi till they turn to golden. Keep aside all the boondi.

Take a large bowl add sour yogurt whisk it well now add besan to it mix it well, make sure that the lumps are not found.

Add 1/2 liter of water to the yogurt bowl. Using same kadhai leave 1 table spoon of oil & take rest of the oil out.

Make sure heat should in medium, add cumin seeds,mustard seeds, curry leaves, dry red chillies, asafoetida (heeng) & fenugreek seeds. Wait until it crackled well.

Now add crushed garlic wait until it turns to golden.Now put coriander powder & turmeric powder fry for half minutes. Now add yogurt & besan batter into the kadhai stir it continuously till it starts to boil.